The season of Easter seems to have come and gone rather quickly this year. No, I refer not to ongoing wintry weather or Easter basket hunts slightly awry. I refer to my 'faith addiction.' In my experience – and therefore by deep conviction - Easter is the climax or centrum of the church year, and it is an occasion I am reluctant to let go of. At any rate, I am relieved, and even inspired to have receive some further Easter resurrection teaching this last Sunday, a full week after Easter!
Easter Sunday the Gospel reading (John 20:1-18) was about Jesus' appearance to Mary Magdalene, who immediately recognized him as Rabonni, "Teacher," and hastens to go tell the others, those disciples hiding away trying to make sense of the horrible ending to their three-year apprenticeship following this life-changing inspiring still confusing rabbi. Now this 2nd Easter was the latter half of that same gospel chapter (20:19-31). Those very disciples squirreled away in a nearby room, suddenly Jesus standing among them, "Peace be with you!" (:19). This twofold descript of Jesus appearing to the women and to the disciples cannot be ignored.
First off, it is women who receive the first look. Why? Because they were tending to what needs doing; the spices, the burial rites. No matter the horrible indignity committed against teacher, against friend, against son, their grief put them front and center. Not only were the women present at the crucifixion (eg John 19:25), but also on hand as first witnesses. Not only in John but the other gospels, it is Mary mother, Mary wife of Clopas, Mary Magdalene, Mary mother of James, Joanna wife of Herod's household manager (yes!), and Salome wife of Zebedee, these women are there.
Who are the persons providing good pastoral leadership in today's churches? It is women. Although sometimes stated as an evidence of shortage of preachers, the significance of women in leadership roles is palpable, definitely more than supply and demand. It is God providing the ministry needed. My seminary years were in the season of introduction to 'women's lib,' forefront of a new awareness, many of them angry academics providing new challenge for administrators and of course still resisted in churches. By now, fifty years later, women leaders are not the angry ones.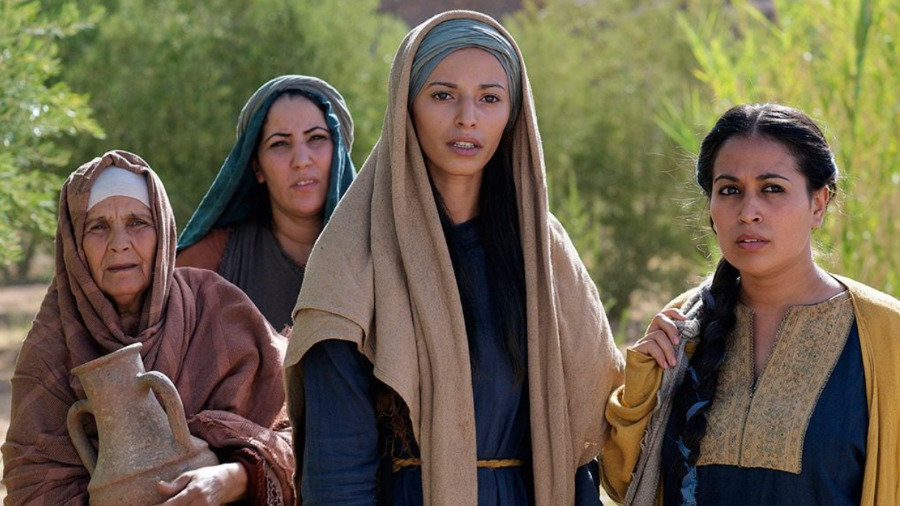 No, quite the opposite. Many are providing the quality pastoral care – considerable relief from the ego consciousness of the male persona. Needless to say, not all male clergy are position anxious, and neither are all females the warm nurturers. There is the anima and the animus, masculine and feminine energies of varying degree in both male and female persons, so says Carl Jung (1875-1961), a famous psychiatrist who established analytical psychology. My intent here is not to pretend my way into the field of 'shrinks,' but I touch on it here only to emphasize the very significant fact of women the first ones to encounter the resurrected Jesus!
Secondly, this matter of men in hiding. 😓 These fellows, overwhelmed with the things just happened, desperately trying to make sense of it all, and of course 'afraid of the Jews' suddenly have Jesus standing among them, "Peace be with you" (:20). There is no "Aha I told you so," no gloating, no censure or scolding for their sleepiness in Gethsemane, or those siblings James and his younger brother John jockeying for position, or Peter's recent hypocrisy in the high priest's courtyard pretending he did not know Jesus, for their shameful fearfulness, their running away. Jesus breathes on them (:22) and they are enabled to do that which they had said they would do. Even Thomas who was absent at the first reveal, after he gets the full satisfaction of touching the nail holes, receives the full assignment just like the others. These were the wimps; they receive the challenge. Go!
All of us uniquely created, there are differing ways of spiritual encounter. The resurrection of Jesus, as described in the scriptures is a most convincing display of God having come among us and absolutely equally available for all. If in doubt, read John 20 again! The feminine way (anima), not exclusively the way of women, and the masculine way (animus) certainly not the exclusive ticket of menfolk. Myself apparently wired with some anima energy, I find Apologetics or Systematic Theology - the discipline of explaining how God gets things done - quite boring. 😏 Of greater interest to me is the appearance and the presence of the resurrected Jesus (Yes, walking in through closed doors in his peaceful demeanor). So, without going into the politics and opinions of gender ministry, I conclude simply with the following.
Christian ministry cannot happen without encounter with the risen Christ Jesus, this also well illustrated in a recent devotional which I read (Rejoice: Vol 57, No.3, MennoMedia). Peter one of those earlier scared disciples now the apostle Peter is involved in ministry that is resurrection driven - he himself now an on-scene participant, Turning toward the dead woman, he said, "Tabitha, get up." She opened her eyes, and seeing Peter she sat up (Acts 9:40). Resurrection living seems kind of optional in some church circles these days. In the effort to give credence to demographic realities or 'do good publicity' we read catchphrases like "Remembering Re-Membering," "The Hour has Come," "Encountering, Embracing, Embodying Christ in life, in community, in the world." etc. etc. These words are excellent articulations for growth plans, conferences and gatherings, based on meetings and consultation with specialists and event planners. Unfortunately words are only words, unless there is significant experience (or re-experience) with that risen Lord Jesus who may be appearing in surprising places just outside the meeting rooms or the church sanctuaries.
This encounter with the risen Jesus excludes no one, not doubting Thomas, fast running John, impulsive Peter, wrong profession Matthew, Mary Magdalene, fussing mother nor loving mother. If the leaders, the assigned ones, remain huddled behind closed doors, diligently seeking new strategies and new ideas, they may not notice the risen One standing among them. Perhaps the risen One has already appeared among new immigrants, among strange new neighbors, among young people or perhaps the very old, or the indigenous who already know the Creator.
More important than success or rank or employment in the church of the future is new life in Jesus,"I am the way and the truth and the life." (John 14:6) And more important than whether it's men or women preaching the sermons is the indwelling presence of the Holy Spirit. He promised it before he died, "the Advocate, the Holy Spirit ... will teach you all things and will remind you of everything I have said to you." (John 14:26) Jesus continues to come through doors.
"Peace be with you! As the Father has sent me, I am sending you. And with that he breathed on them and said, "Receive the Holy Spirit." (John 20:21-22)